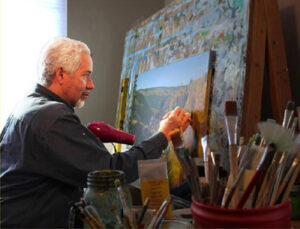 The rugged environment of life at altitude is best interpreted by someone who has experienced it intimately. Marc Jones came to Colorado in the '70s, and after living and working in Boulder for several years, he took a position as the Field Station Manager of the University of Denver's High Altitude Lab at Echo Lake, living for eight years at an altitude of 10,700 feet in the shadow of Mount Evans one of Colorado's "fourteeners".
This position not only afforded Marc the opportunity to pursue his art in pristine and silent surroundings, but he gained a lifetime of unique and unparalleled experiences amidst a wild and sometimes brutal environment. Many of his works, such as Echo Lake Snowfall and Mount Evans Moonrise were inspired by the everyday scenes of this extraordinary setting.
Most recently Marc turned his artistic attention to another one of his passions – exotic and vintage sports cars, both past and present. His talent for these works illustrates painstakingly rendered detail, including Porsche RSR and Buggati SS. Currently residing in Loveland, Colorado Marc continues to develop and expand his artistic vision through these wonderful machines!
You can contact Marc directly for information about his art or for commission work at marcgjones@aol.com.